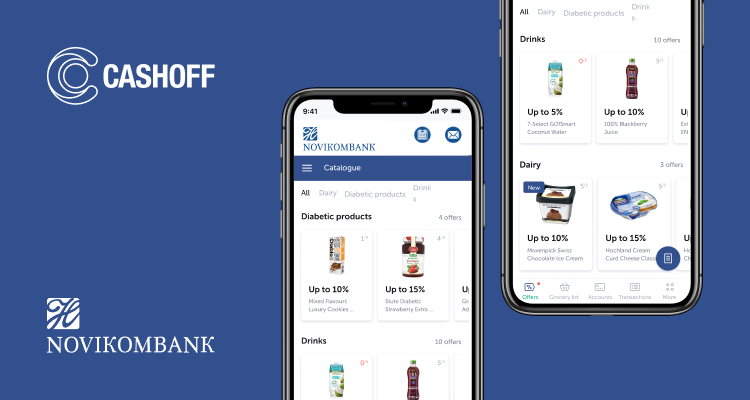 January and February 2021 saw a surge in baby product purchases, research by CASHOFF states. The fintech has analysed the quantity and volume of rewards claimed by bank cardholders under the Cashback Funded by Suppliers loyalty programme. The programme has been implemented in some largest banks, including Novikombank, and is powered by CASHOFF.
The Research has shown that in January 2021 the users received 20,539 cashback rewards in the dairy category, 19,999 cashbacks in the bakery category, 12,977 cashbacks for purchases in the baby category. Those are followed by tea & coffee (5,166) and sauces & seasoning (4,258) categories.
In February, the baby category ranked third largest. The users claimed 26,839 cashbacks in the bakery category, 22,835 in the cupboard category and 15,212 in the baby category. Previously, the baby category never ranked so high.
By contrast, January 2020 saw a different range of top categories: pet products (23,197), cupboard (19,857), dairy (12,479), beverages (9,529), sauces and seasoning (6,000).
We have also looked into the purchasing behaviour of the cardholders during the lockdown and after it was lifted. We have noticed that in February 2021, after the top expenses categories, supermarkets and clothes, customers spent most with car services, fast food and pharmacies. Conventionally, the expenses in the categories are increased due to a constant demand for these services or items among the customers. At the same time, the percentage of expenses in pharmacies has decreased whereas the fast food share, by contrast, has increased, which might be due to a decline in Covid-19 cases, lifting working from home rules for many organisations and consumption revival.

Evgeniy Gladilin, Head of Retail Department at Novikombank
More and more bank customers are using cashback-per-offered-item services and we have seen that the most popular are FMCGs, everyday goods. Noteworthy, after the nine-month lockdown, we saw a substantial increase in demand for baby products. Together with banks, CASHOFF seeks to provide the largest possible range of goods on offer for banks' mobile and loyalty app customers. While brands are undoubtedly looking for effective goods positioning for a 20+ million banking audience in the Cashoff-partnered apps. Moreover, the advertising budget is only spent to reward the customers who have purchased their goods.

Dmitry Gorkov, CEO at CASHOFF
About CASHOFF
CASHOFF is an international fintech company founded in 2013. CASHOFF's developments have Big Data and AI technologies at their heart: the deployment of such helps create an enhanced customer journey, boost customer engagement and increase brand loyalty. The company enjoys partnerships with over 50+ banks worldwide and more than 20 million retail customers. CASHOFF is also developing a cashback-per-item for purchases of popular global brands. The company's key markets are Europe, Asia, Russia and CIS.