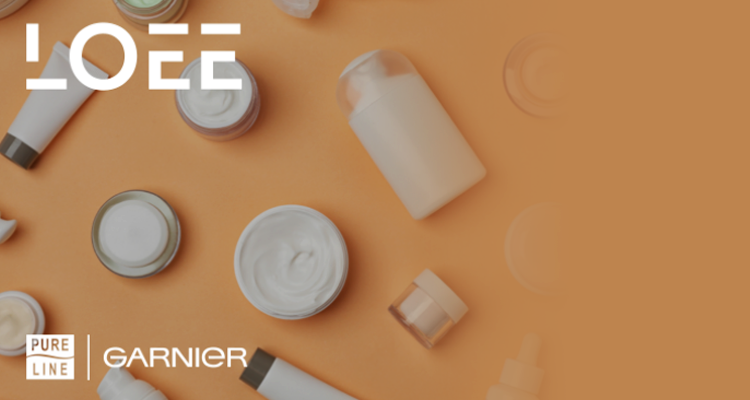 As a developer of Data Aggregation and Analytics modules, CASHOFF has conducted research into purchase data of Unilever's Pure Line (Russia) and Garnier (France) in 2020.
LOEE's solution powered by CASHOFF enables brands and suppliers to publish their cashback deals in mobile apps of the leading banks. Customers scan receipts with cashbacked items and receive a reward.
The research analyses more than 4 million receipts across four LOEE-partnered platforms: VTB, Pochta bank, Novikombank, Skrepka and Yepy. The total number of items is nearly 41 million. 47,000 of them are Pure line and Garnier products. The brands' items turnover is 0.1% of the total across all uploaded receipts.
Turnover and Purchase Quantity
Pure line was 16% ahead in the number of customers in 2020. The brands under consideration have shown similar turnover patterns, with the majority of peaks coinciding. That being said, Garnier's monthly turnover in 2020 was slightly above that of Pure line. This can be attributed to higher prices on Garnier products.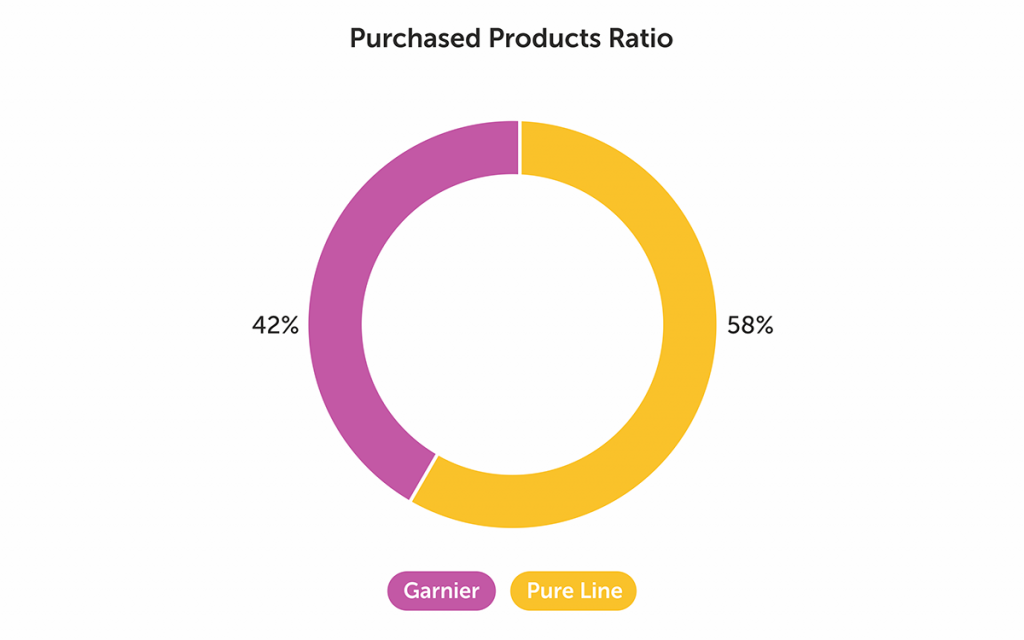 We have analyzed the number of purchased products of the two brands. And here are the Top 3 popular products we have discovered:
1. Pure Line Shampoo (15% of all Pure Line and Garnier products)
2. Garnier Deodorant (13% of all Pure Line and Garnier products)
3. Garnier Hair Dye (11% all Pure Line and Garnier products)
Purchase Breakdown
The majority of purchases took place on Fridays and Saturdays. Pure line Shampoo and Garnier Deodorant also saw a consumer spending uptick on Tuesdays. Garnier's hair dye — on Wednesdays and Thursdays.

The research shows the brands' products are most often purchased from large chains. The majority of receipts uploaded come from the following stores: Magnit (21-39%), Pyaterochka (15-25%), Lenta (12-27%), Perekrestok (6-7%). Among popular points of purchase, each of the Top 3 has a unique store it was purchased from. It is Fix-Price (4%) for Pure Line, the Ruble Bum shop for Garnier Deodorant (3%), and Dixy for Garnier hair dye (4%).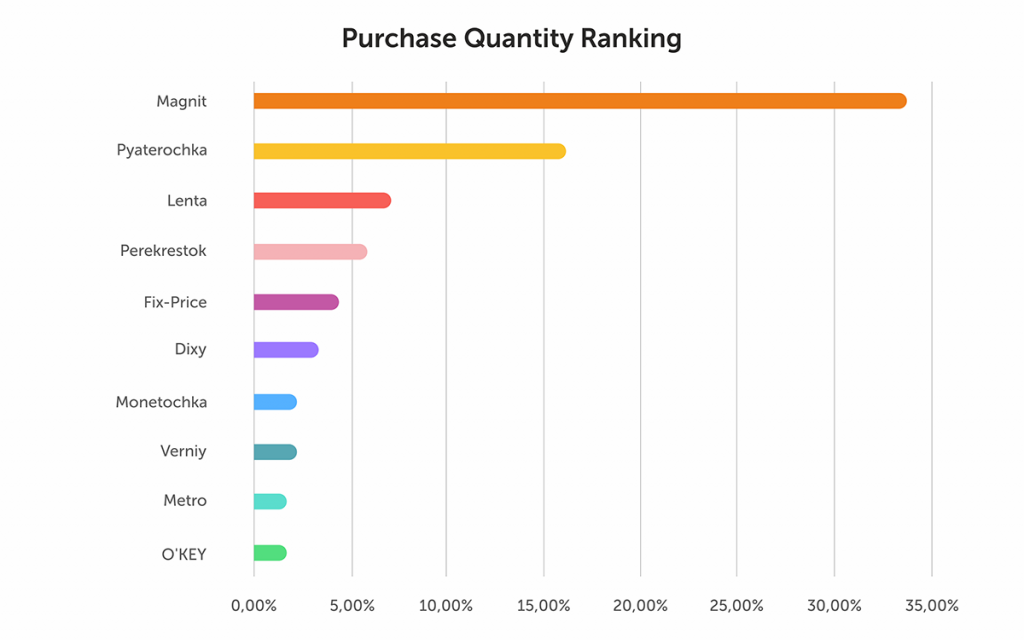 Consumer Profile
Transaction and receipt analysis enabled us to build up a profile of a typical consumer of Pure Line and Garnier personal care products. Their average monthly income is 34,250 roubles, whereas the average purchase value is 2,118.80 roubles. 63% of those matching the parameters have bank deposits, 8% have loans, too. Predominantly, an average consumer shops at Magnit, Pyaterochka, Perekrestok, Lenta and Fix-Price.  
The most popular categories among Pure Line and Garnier consumers were vegetables, fruits, bakery, dairy and pet food.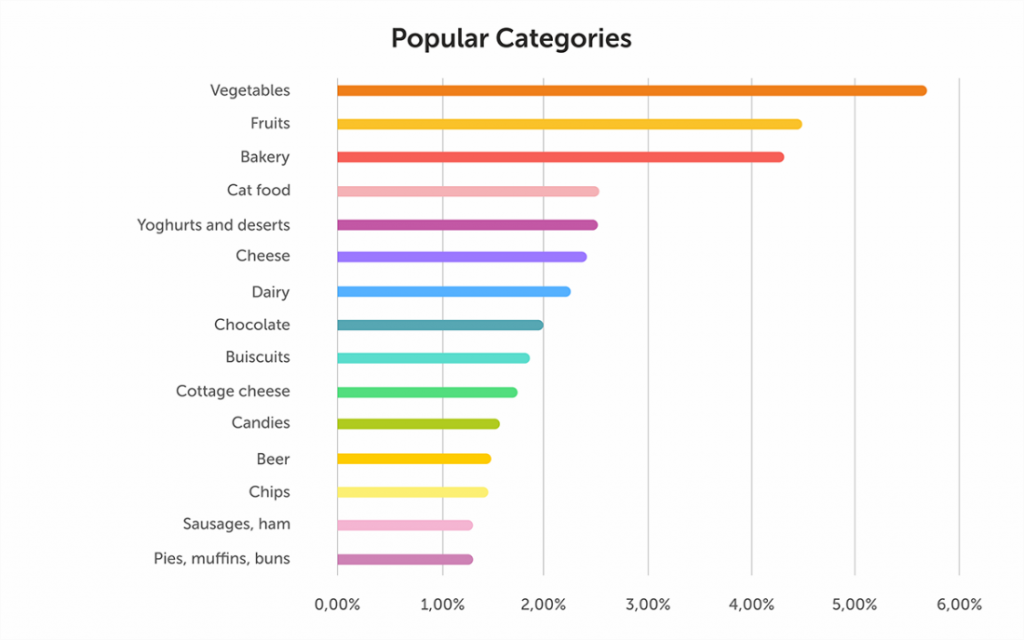 Associated Products and Brands
Research into receipt data reveals brand products that are usually purchased together with the products under review. Those include Agusha and FrutoNanny, dairy by Prostokvashino, pet food by Whiskas and Felix, and Colgate's oral care.
Consumer Preferences
Pure Line and Garnier offer similar assortments. However, customers pot for different products. For example, shampoos, creams and body scrubs by Pure Line in 2020 were much more popular than the ones by Garnier. It is not the same for deodorants and facial masks: Garnier products saw higher demand among customers while both brands' micellar water products were equally popular.