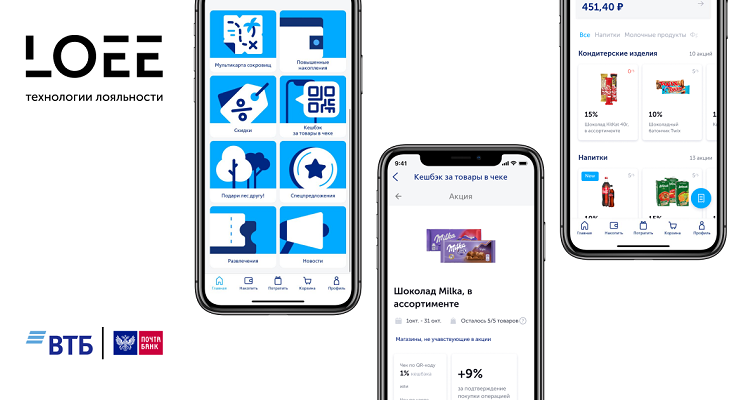 VTB's Multibonus mobile app gets a new section with cashback per item on your receipt. The new section invites users to view dedicated item offers and get rewarded with higher cashback for their purchases. This is done by the consumer scanning a QR code on their receipt. The new feature is now available to Multibonus members due to the implementation of LOEE's cashback technology. The technology was developed by CASHOFF, a Skolkovo resident company. 
To qualify for cashback, the user needs to scan a QR code on their receipt with the Multibonus mobile app. The customer can transfer the bonuses rewarded for items in their receipt to their VTB or Pochta bank cards as soon as they have accrued at least 300 roubles. LOEE provides new suppliers and brands with access to the Multibonus platform thus helping them to communicate directly with their customers and precisely target their offers.
Roman Sinenko, Head of VTB's Multibonus loyalty programme: "With CASHOFF and the partnered brands, we are able to offer additional cashback on our customers' shopping routine. This is a win-win deal: the customers earn more rewards yet sticking to their habits and pay for their purchases with VTB bank cards; brands get exposure to the Multibonus marketplace and an opportunity to use direct marketing tools to promote their products among the banking audience, and the bank enjoys an enhanced loyalty programme."
Dmitry Gorkov, Founder and CEO at CASHOFF: "Brand-funded cashback technology is underpinned by Machine Learning thus allowing us to precisely profile the customers and target the offers appropriately. We verify every purchase with a bank transaction. Companies that post their offers on the Multibonus platform will only pay if the purchase has taken place and is verified with a bank transaction. I am convinced that synergy between the bank's ecosystem and the suppliers will yield economic results for both parties.
LOEE implementation inside the Multibonus app was preceded by a successful pilot project as part of the IIDF and VTB Accelerator.
In May 2020, VTB and Skolkovo Foundation signed an IT partnership agreement. The project of Multibonus and CASHOFF became the first case when an innovative solution developed in the Skolkovo Foundation was integrated into VTB's ecosystem.
Background
CASHOFF is an international fintech company established in 2013. CASHOFF's developments have Big Data and AI technologies at their heart: the deployment of such helps create an enhanced customer journey, boost customer engagement and increase brand loyalty. The company boasts partnerships with over 50 banks worldwide and more than three million retail customers. CASHOFF has also been developing an item-based cashback for purchases of popular global brands. The company's key markets are Europe, Asia, Russia and CIS.
Multibonus Loyalty Programme (formerly, the Collection) was created at the VTB bank in 2013. Since 2020, the benefits offered in the programme have become available for the Pochta bank customers.  Multibonus.ru is a full-fledged marketplace that not only offers over 60,000 goods by renown brands but also enables its customers to exchange their currency to roubles and enjoy exclusive offers, higher cashback and partner discounts.